WhatsApp Marketing 
– Ways to Grow Business by Implement WhatsApp Effectively
Stepping into 2020, our daily life is flooding with digital apps from different fields such as telco, food and beverage, automotive, etc. Speaking of communication fields, its giants must be the most dominating trios, Facebook, WhatsApp and Instagram.
According to 2019 second quarter report published by Facebook, more than 2.1 billion people access their family of services ie. WhatsApp, Facebook, Instagram and Messenger daily. WhatsApp is one of the major contributors. In 2014, Facebook purchased this 5-year-old apps and within 5 years, it has grown rapidly like rocket around the world.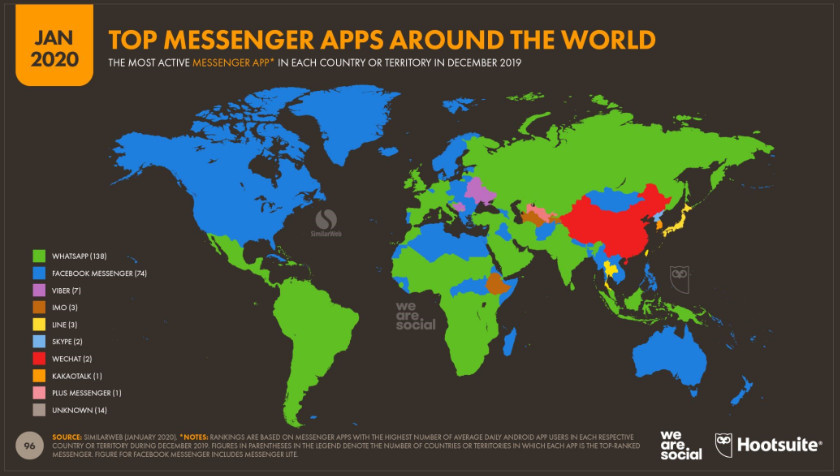 Published in WhatsApp blog on Feb 2020, more than 2 billion users are using WhatsApp for personal or commercial purpose. The above show the most-popular messaging apps around the world, and WhatsApp is the top messenger apps at 138 counties.
In addition, WhatsApp have shown its significant position and potential during 2020 Covid-19 outbreak period. Majority of the retailers and organizations chose WhatsApp as preferred channels to share essential information or to continue surviving from the economy crisis season.
With such massive users, how can WhatsApp help to generate business sales and revenue? Let's continue.
1. WhatsApp Connect – Link with customer, colleagues and suppliers
Some might find it intrusive if you call them directly. With this instant messaging platform, WhatsApp, everything is possible as long as you have stable internet connection. It provides you several options when delivering rich media messages e.g. Images, video, GIF, etc.
– By message (one to one)
One of the fundamental features provided by WhatsApp, it allows user to direct click to chat by text, audio or even video with anyone.
– By groups (many to many)
WhatsApp support to create group with 256 participants and provide ability to set group privacy & details. Thus, user can share documents or follow up even though they are not sitting in front of the office desk.
– By broadcast (one to many)
Broadcast is a private sending method which support sending messages to maximum 256 contacts per blast. As business owner, do take time in gathering and grouping customer leads based on preferences. Later that, start blasting your marketing messages periodically. This also works in personal and offices. We can share messages such as event reminder or new policy to our friends, relatives or colleagues.
2. WhatsApp Business – Facilitate better customer relationship (CRM)
We must aware that there is a dramatic shift in communication preferences and consumers demand greater convenience without spending a lot of times. As reported by EConsultancy, a famous digital community for marketers, up to 79% of the consumers prefer online chat which support instances reply and multitask.
In 2018, WhatsApp Business was released in order to assist medium and high enterprise or business owner a better management on the client relationship. Many companies joined as business account such as Booking.com, OYO, UBER and many more.
By joining this, user can set automatically reply messages similar to ChatBot function, customer labels, shop details and gather leads for remarketing purpose. Messaging statistics will also provide for user's review. Building and enhancing the real time customer services will certainly takes effort and times, but you reap what you sow, surely harvest the ripe fruits someday.
For example, famous budget hotel chain, OYO have taken the lead in engaging WhatsApp Business account with a blue tick. Customer can book an OYO room either confirm or cancel order via WhatsApp. Same as basic WhatsApp, details shared in WhatsApp are private encrypted.
3. WhatsApp Stories – Interact with customer
Inspired by Snapchat's popular feature, Facebook introduced own stories features successively. Stories will visible for 24 hours only. Based on Tech Crunch, a well-known American online publisher which mainly focusing on the tech industry, Facebook owned apps' stories users have increased to more than 500 million compared to Snapchat (190 million).
At annual Facebook Marketing Summit 2019, Facebook revealed that ads on WhatsApp are coming soon in early 2020. Not only Facebook and Instagram, but time to move attention on WhatsApp stories as this platform is also new and unexplored yet. Do note quality Interaction with followers is pinpoint of a successful business.
4. WhatsApp Contest – Generate sales and customer leads
Back in 2017, trend of kick-start a WhatsApp contest began to spread worldwide. Most companies practicing this when having new product launching, event or sales.
The idea is to purchase -> WhatsApp -> Win. Attracting prizes likes car, mobile phone and other electronic appliances are provided. Then, organizer will notify the chosen winners.
It boosts your sales and increase website traffic as people will scroll your official website directly for further details. To proceed, you may create WhatsApp business account as blue tick account is more credible. At the end of the contest, you may gather the leads and broadcast marketing messages accordingly. So call one stone hit two birds.
Successful examples are contest held by Giant, Nestle, The Store, Durex and so on. Start planning one contest now, better late —than never.
5. WhatsApp Chatbot – Automate to improve business efficiency
In post covid-19 era, the ability to automate tasks is an important aspect of digital transformation.
It is vital that all functions are working efficiently to ensure maximum output with the key focus to improve productivity and reduce time wasted on repetitive administrative work.
By deploying a WhatsApp Chatbot as part of your business process, it could automate customer service and optimize sales process to improve your business efficiency.
6. WhatsApp Interactive Button – Improve your customer experience 
By adding buttons to your WhatsApp messages, you can create engaging, interactive, and simple messages that give your customers clear options to choose from.
WhatsApp Buttons allow you to better anticipate how your customers will respond to your messages, giving you the ability to simplify your flows.
– – – – – –
Believe or not, Facebook-owned platform especially WhatsApp are leading the world. We must getting adapt to the trend and learn how to utilize the apps wisely.
If you want to find out more about WhatsApp Business Solution and learn how we can help you to run a successful WhatsApp marketing campaign, contact us today!
*WappBS is under Malaysia SME Business Digitalisation Grant program, sign up now to enjoy a 50% matching grant of up to RM5,000 rebate.
** First come first serve, while grant lasts.

You might also be interested in these useful tips:
1. WhatsApp Plus – Do all in one – The most comprehensive WhatsApp marketing strategy
2. All you need to know about WhatsApp for Business: APP vs API vs WappBS
3. 10 tips to run a successful WhatsApp Marketing campaign
4. How to use WhatsApp chatbot effectively for customer retention marketing