All You Need To Know About WhatsApp For Business: APP vs WappBS vs API
Like water and fish, business cannot be lived without WhatsApp.
Published by WhatsApp itself, more than 50 million businesses are using WhatsApp Business app for support and growth.
In a dilemma between WhatsApp Business APP or WhatsApp Business API?
Roger that, we will explain in brief for you to identify the most suitable type. But first, let's have a quick view of the comparison between these three!
The Difference Between WhatsApp Business APP, WhatsApp Business Solution (WappBS) & WhatsApp Business API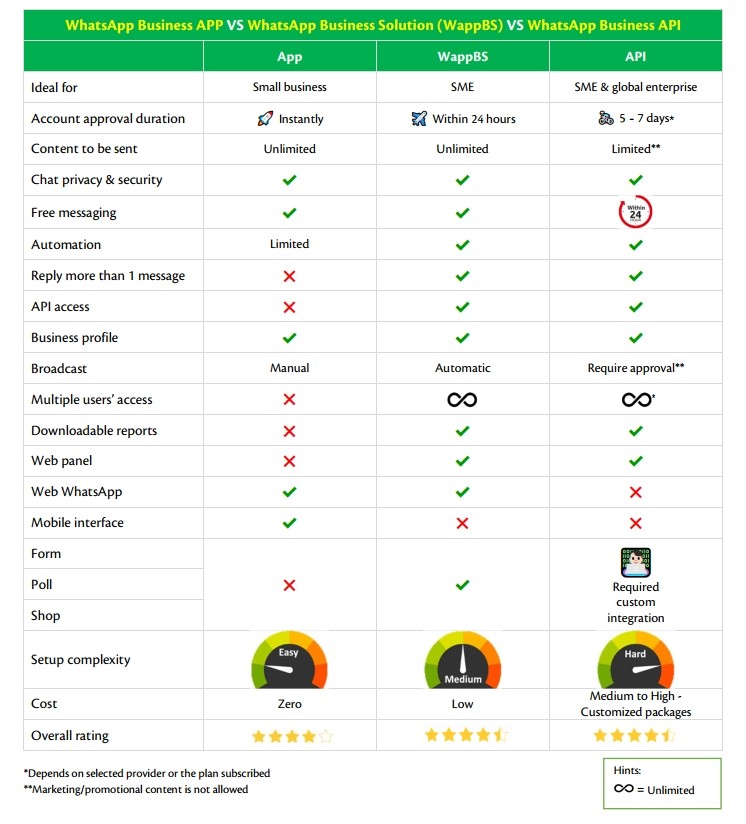 WhatsApp Business APP (WB)
Suitable for small business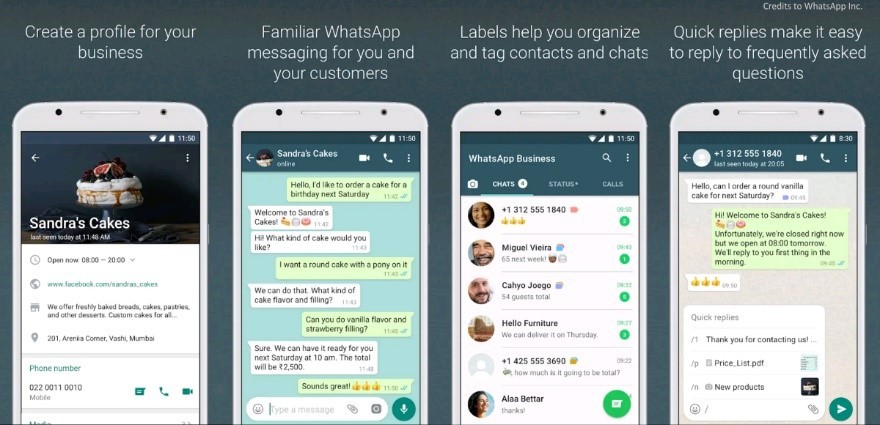 Build-in with basic features of WhatsApp, WhatsApp Business is designed for business owners who are in need of having 1:1 communication with their customers.
Pros:
1. User-friendly & free download
Same with WhatsApp, zero cost, you just download the app via Play Store or IOS then link it with 1 business number either landline or mobile number.
2. Detailed business profile
You can easily set the business details such as name, address, operating hours, and websites. Besides, it supports catalog display. Hence, you can showcase product details by uploading digital catalogue.
3. Automated messaging tools
Born to facilitate better customer support, it provides various additional functions: e.g. away, greeting messages and quick replies. Besides, you can also create labels to organize customers based on their status such as interested, pending payment, or repeated customers.
4. Targeted marketing by broadcast
WhatsApp has designated a simple route for WB users. Users can easily create the broadcast list from the customer labels. Then deliver customized marketing messages to customers thus driving them to the next level of sales funnel.
(Note: every broadcast group is limited to 256 contacts only)
5. Provide messaging statistics
Data analysis is essential in business. Track your overall WB account reports e.g. numbers of messages sent, delivered, read and receive.
6. No hidden or additional charges
With numerous basic business features, WB is useful for small business owners. What WB emphasized is the simplest connection, neither do the users need to master coding nor require API cost. It is entirely free.
Though WhatsApp Business have a lot of built-in basic features, we still need to consider its downsides before own one.
Cons:
1. Limitation in message templates
WB offers a chat platform for small business owners like e-commerce. Yet, there is characters limits in the message templates e.g. away and welcome messages. You can't set up too long content or pop out double messages subsequently.
2. Restriction in messages automation
Automation only valid for away and welcome messages. The quick replies do not function as auto reply, it refers to the shortcut set-up for frequently used messages.
3. Singer user access only
Noted that 1 business account is linked to 1 device 1 number. Not a big issue for small business as typically, the number of employees is probably less than 10 only. Therefore, it is needed to assign a dedicated person in charge to manage the business account.
4. Longer lead time in replying
WB's major drawback is it does not allow for multi-user access. So, it may take longer lead time for the staff to reply enquiries and provide a relevant reply. During waiting periods, your potential customers could have left and gone for your competitors' hug.
(Definitely not the type for large companies with many departments, if you are, then let's go for WhatsApp Business API or WhatsApp Business Solution)

WhatsApp Business API
Suitable for medium and large business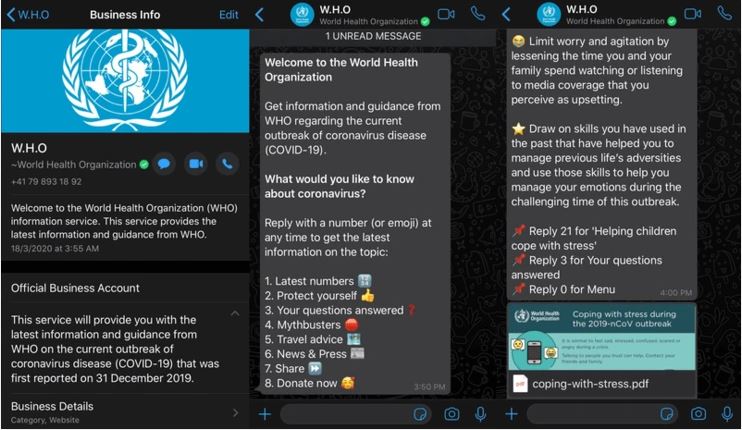 WhatsApp Business API was build to provide customer service, notification and offer support by integrating WhatsApp Application Programming interface (API) to their own system such as CRMs, websites, etc.
Before we go on, let's take a look at fundamental elements of WhatsApp Business API – messages templates:
Session messages:

replies when customers initiate the chat within 24 hours. It can be any form of rich media, e.g. images, videos or GPS location. And it is F.O.C.

Template messages

: notifications from business such as shipping, payment updates or appointment reminders. Additional charges are incurred.
Pros
1. Brilliant business automation
Replying unlimited & high volume of incoming messages totally not a problem. The WhatsApp is now ready to provide real-time customer support and notification with stable API. For example, WHO, KLM, CIMB, Melia Hotels & Booking.com are all using WhatsApp Business API for sharing details and updating programmatic notifications with customers.
2. Free broadcast
It supports unlimited broadcast too as this is one of the WhatsApp's basic features. But WhatsApp does not encourage broadcast and set its restriction in template messages.
3. Additional business features
WhatsApp Business API provides varies of support such as create business profile, send customer service messages at large scale, measure business results through insights and many more. On-time improvement can be made by owner instantly by viewing analytic results.
4. Access by multiple users & devices
Yes, it is almost impossible to get all jobs done by assign 1 staff. WhatsApp Business API provides you flexible options to manage with your colleagues or staff.
5. Duplicated keywords
Most of the ChatBot in the market do not support this. WhatsApp Business API is the choice as it supports to have the same simple keywords in different parts of your WhatsApp hotline.
WhatsApp Business API is powerful in automate of thousands of messages reply. Every coin has two sides. It does have some disadvantages.
Cons:
1. Require to apply with WhatsApp official partner
First, you have to get contacts with authorized WhatsApp Business provider first. And provide relevant documents in order to request access and approval from WhatsApp. All these might require lots of working days depending on your company profile and selected provider.
2. With messaging limitation
One of the major drawbacks of WhatsApp Business API is messages. Messages must be attended within 24 hours or else might incur a huge cost.
3. Cost
WhatsApp Business API is an upgraded solution compared to WB but it could be a heavy expense to a company. The cost comprises the following:
– Monthly fees
– Setup fees
– Cost per messages
4. Require approval in initiate conversation
WhatsApp is working hard to prevent business from sending spamming messages to customers, therefore all of the template messages will require some working days to get approval. Same problem when a business is interested to start broadcast. They are tied up with WhatsApp's restriction and unable to send out marketing messages themselves.
5. Incapable of making a call
There is no mobile interface of a WhatsApp Business API. Hence, it does not have contact manager and unable to make a call.
(WhatsApp Business API is ideal for medium & large business to enhance business automation and customer services thus making your every penny worthy.
Concern about the cost? Why not consider WhatsApp Business Solution?)

WhatsApp Business Solution (WappBS)
Suitable for small and medium enterprise
Pros
1. Efficiency in messages automation
WappBS provides relevant replies instantly 24/7 in rich media formats such as images, videos & PDF. What's more? It can also reply two messages consecutively e.g. Image + Text or Video + Text, making your WhatsApp ChatBot attractive and interactive.
2. Cost-effective
The cost to kick start a WappBS is lower compared to hiring staff and WhatsApp Business API. Because the rate is based on your selected plan and subscription period. In addition, no charges for every message sent.
3. Easy set-up + Unlimited keywords and campaigns + Go live in just 2 minutes
Less restriction compared to WhatsApp Business API.
Just provide an active number for setup
Easy manage with the user-friendly web panel
The keywords do not require approval and will be "activated" in just 2 minutes
One-click switch on or off the WappBS depends on needs
4. Support multiple users across multiple devices
Unlike WhatsApp Business App, WappBS allow multiple users access. With any digital devices, you can log in panel anytime to view incoming messages or other reports by any digital devices.
5. WhatsApp Shop : Shop-Checkout-Pay
The cost of developing a quality website for shopping could be expensive. With WappBS, customers can view all products at one glance, tap and add products in the cart then choose to checkout by e-payment methods or C.O.D. Making the virtual shopping simpler and effortless!
6. One-click free broadcast newsletter or promotion
Deliver marketing messages or newsletters to followers can be zero cost. Only advance planning is required – To prompt those chatters to save your number, draft the content, and choose the right timing to broadcast!
7. Ready to be integrated for advanced performance
Depends on your needs and budgets, WhatsApp Business Solution provider is ready to tailor-made customized packages whether to integrate with API, WhatsApp App or WhatsApp Business App.
8. Simplify WhatsApp appointment
People expect the simplest ways when they are about to make an appointment. WappBS offers you to simulate the easiest appointment e.g. medical checkup, enrolment, trip booking and etc. They can just book a date in WhatsApp, no need to download additional apps or redirect to website.
9. Improve sales by conduct market survey
Focus on customer retaining is mandatory in business growth.
Q: But how to gather customers' preferences and opinions?
A: By initiate survey periodically
WappBS automates the survey procedure by pop out the next questions instantly as soon as receive the first answer. All the results can view in web panel with a detailed ratio in a pie chart.
10. Remarketing & analysis business performance
Real-time reports such as chat history, submitted form, poll analysis, etc are viewable in the WappBS web panel. All this is extremely useful for businesses to follow up, remarketing, and adapt new sales strategies.
Cons
1. Each messages automation takes 1 second
First, imagine your customers are all in the queue. And you have 3 choices as below:
WB only greets customers and send away messages automatically. Other than that, messages will not be taking care of in the absence of dedicated staff.
WappBS helps to reply messages one by one but not at the same time. Every message reply needs 1 second and so on, the more incoming messages, the more the time taken.
WhatsApp Business API is more capable of multitasking as it can handling every enquiries and case simultaneously.
In short, from the aspect of automation capability, WhatsApp Business API > WappBS > WB
Choose the best suit for you based on budget, business & amounts of enquiries per second.
2. No keyword duplication
Though WappBS support unlimited keywords, the keyword will be invalid if been duplicated.
What if you keen to explore different keywords for branches and departments? Go for WhatsApp Business API. It allows keywords duplication in different layers. For example: customer service department (Layer A) can use the same keywords with marketing department (Layer B).
(For business who is using WhatsApp for daily communication & operation, WappBS could be your choice as it involves the minimum cost and its numerous functions.)
What's More?
Launched in July 2020, WhatsApp itself is now supported sharing contacts in QR code. Those who interested can initiate a chat with the business with simply a click or scan. It brings greater convenience to customers and business. Available in all of these 3 types!
Every man has its taste. All these 3 types are born to facilitate better customer support and maintain CRM by faster reply and automate conversation. Choose the right fit solution for your business!
If you want to find out more about WhatsApp Business Solution and learn how we can help you to run a successful WhatsApp marketing campaign, contact us today!

You might also be interested in these useful tips:
1. 10 tips to run a successful WhatsApp Marketing campaign
2. How to use WhatsApp chatbot effectively for customer retention marketing